Opendeurdag / Journée portes-ouvertes / Open day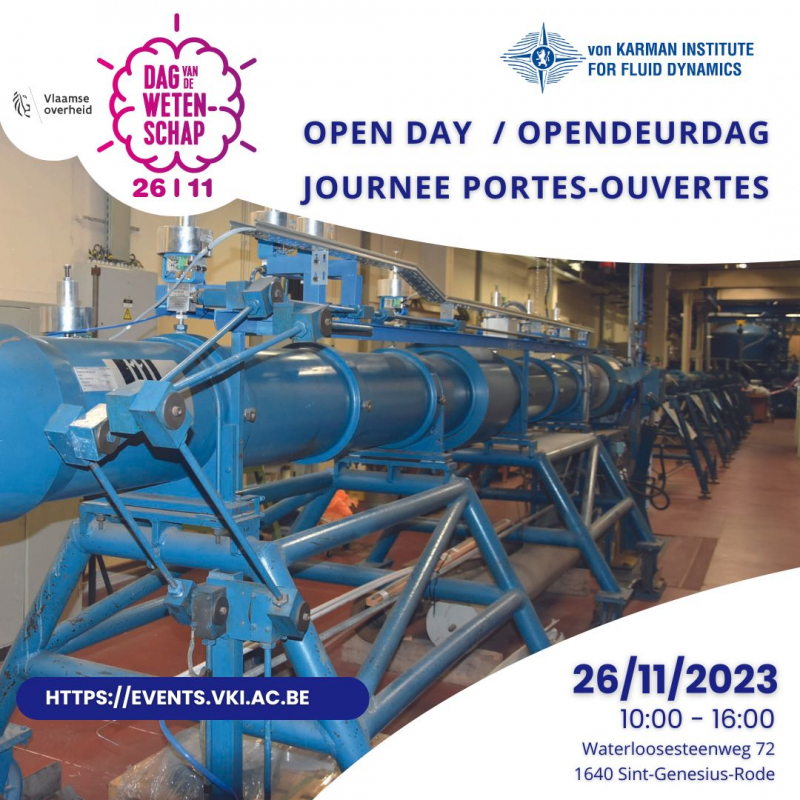 Het VKI opent zijn deuren voor het grote publiek. Een unieke gelegenheid om "verboden" plaatsen te ontdekken zoals de Longshot, een hogesnelheidswindtunnel voor hypersone testen tot 14 keer de geluidsnelheid; de Plasmatron, een plasma generator die thermische belasting simuleert gedurende de terugkeer van een ruimtetuig in de atmosfeer, of de L-1, de grootste windtunnel voor lage snelheid van België wordt gebruikt voor studies inzake het leefmilieu en microklimaat, en en vele andere faciliteiten.
Deelnemers worden gegidst door windtunnels en unieke laboratoria, en zullen getuige zijn van experimenten:
Hoe werkt de motor van een vliegtuig?
Hoe hernieuwbare energieën integreren in onze steden (lego-demonstratiemodel)?
Hoe wordt het geluid verspreid?
Leer meer over stromingsdynamica met onze miniwindtunnels
en andere verrassingservaringen
Kinderen vanaf 8 jaar kunnen deelnemen aan allerhande experimenten.
Rondleidingen en experimenten worden gegeven in het Nederlands, Frans of Engels.
Le VKI (von Karman Institute for Fluid Dynamics) ouvre ses portes au grand public. Une occasion unique de découvrir des lieux "interdits" tels que le Longshot, une soufflerie à grande vitesse pour des essais hypersoniques jusqu'à 14 fois la vitesse du son, le Plasmatron, un générateur de plasma qui simule le stress thermique lors de la rentrée d'un vaisseau spatial dans l'atmosphère, ou encore le L-1, la plus grande soufflerie à basse vitesse de Belgique utilisée pour des études sur l'environnement et le microclimat, et bien d'autres installations encore.

Les participants seront guidés à travers des souffleries et des laboratoires uniques, et assisteront à des expériences:
Comment fonctionne le moteur d'un avion ?
Comment intégrer les énergies renouvelables dans nos villes (modèle de démonstration en lego) ?
Comment le son se propage-t-il ?
Apprenez la dynamique des fluides avec nos mini-souffleries
et d'autres expériences surprises
Les enfants à partir de 8 ans peuvent participer à toutes sortes d'expériences.
Les visites guidées et les expériences sont proposées en néerlandais, en français ou en anglais.
The VKI (von Karman Institute for Fluid Dynamics) is opening its doors to the general public. This is a unique opportunity to discover "forbidden" places such as the Longshot, a high-speed wind tunnel for hypersonic tests at up to 14 times the speed of sound, the Plasmatron, a plasma generator that simulates the thermal stress during the re-entry of a spacecraft into the atmosphere, or the L-1, the largest low-speed wind tunnel in Belgium used for studies on the environment and microclimate, and many other installations.
Participants will be guided through unique wind tunnels and laboratories, and witness experiments: 
How does an aircraft engine work?
How can renewable energies be integrated into our cities (Lego demonstration model)?
How does sound propagate?
Learn about fluid dynamics with our mini wind tunnels
and other surprise experiments
Children aged 8 and over can take part in all kinds of experiments.
Guided tours and experiments are available in Dutch, French or English.
WAAR/WHERE/OÚ?
von Karman Institute for Fluid Dynamics
Waterloostesteenweg 72
B-1640 Sint-Genesius-Rode
ANY QUESTIONS / VRAGEN / QUESTIONS?

Email: This email address is being protected from spambots. You need JavaScript enabled to view it.
Event Information
| | |
| --- | --- |
| Event Date | 26-11-2023 10:00 am |
| Event End Date | 26-11-2023 4:00 pm |
| Cut off date | 22-11-2023 12:00 pm |